We have a guest blogger today! We're lucky enough to have our friend, Jennie Wold, doing a special interior design inspired fashion post. Jennie is a talented personal stylist and with spring here, and with it an urge to freshen up our closets, we asked her if she could put together a couple of outfits based on our favorite rooms in the first post. You know how they often say that dogs and their owners look alike? Well, apparently  homeowners and their rooms can look alike…but in a much better way than me looking like my yellow lab! And now passing the baton to Jen…
Hi everyone!  Great to be guesting today. Not only did I want to make sure I accurately reflected the rooms, but I also made sure to incorporate some of the season's biggest trends. I loved it when Tessa and Amy asked me to write this post because it really shows you can pull inspiration from so many places. Fashion and interiors are so closely aligned so if there's a trend you see in one place, don't be afraid to try to translate that to another place.
First, a reminder of Tessa's favorite room:
One of the things I loved most about Tessa's choice was the layering of bright, bold patterns. I immediately envisioned these red skinny jeans with a breezy tribal top. I added the jacket to integrate the strong presence of blue hues throughout the room. The purse is an easy way to mix patterns, and the neutral color palette ensures that it won't fight with the rest of the look. I think the woman that would wear this outfit (or live in this room) would want garments that could take her anywhere in a moment's notice. With that in mind, I added the fedora and sensibly stylish fringe sandals. The bangles finish the look by adding texture and a little luxe.
And on to Amy's room: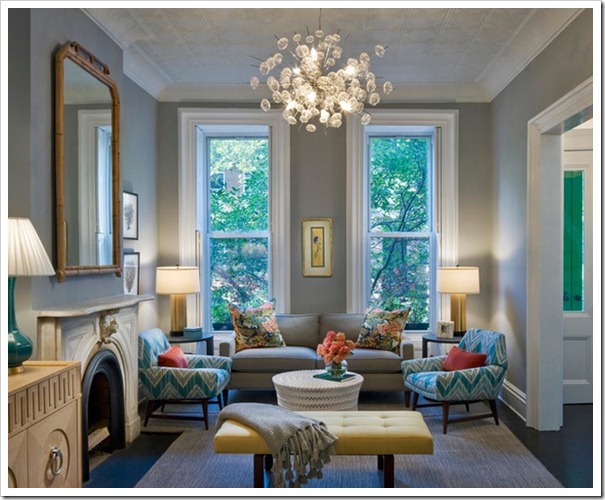 One of the first things that I noticed in Amy's room was the overall neutral palette with these amazing bursts of color. This approach is a great way to "design" an outfit as well. I chose this simple maxi dress because I felt both the length and the color mirrored the tall ceiling and soft grey walls. I like the idea of layering a cozy woven vest over the dress to add texture and warmth, much like the throw in the photo would. The beaded necklace was an easy choice for me. It adds the unexpected pop of color, and playfully mimics the light fixture featured in the room. The bracelets, bag, and lipstick are sort of like the throw pillows of the ensemble. They bring color, pattern, and just the right amount of whimsy.
I love what Jennie pulled together and while you're reading this, I'm probably shopping online (well, maybe not for the gorgeous blue Paul Smith jacket which will remain on my wish list…likely, well, until the end of time…)
Send us a room you love and your general style and we'll have Jennie put something together in a future post.  Hope you enjoyed our first fashion (and first guest) post.