Every year, I struggle to get my husband a great father's day gift…maybe because I'm scrambling at the last minute! This year, I've got some great ideas and still have a couple of weeks to actually get it shipped!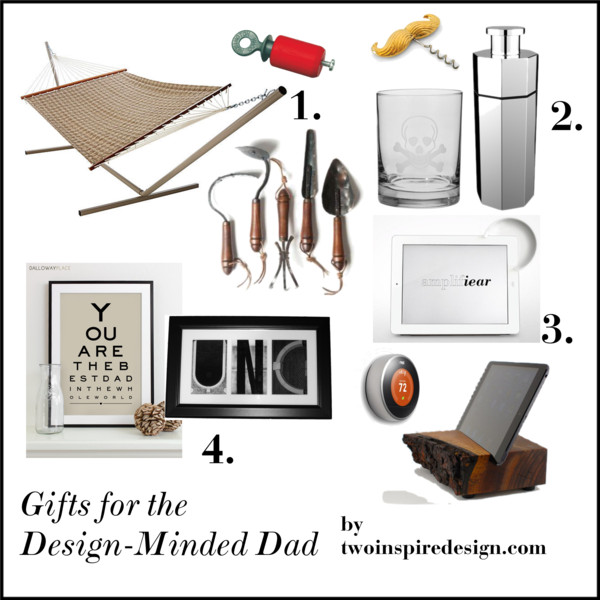 1. The Gardner–for the outdoorsy side, I've picked a hammock from One King's Lane (no longer available, but World Market and IKEA both have good affordable choices) which would be perfect for relaxing and enjoying the efforts achieved using these gorgeous gardening tools. And how cool is this little bird call to attract some "wildlife" to the backyard while swinging in the new hammock.
2. The Hipster–do you have more of an urban explorer than a backyard one? This cocktail shaker has such a good shape and these double old fashioned glasses are perfect for that edgy dad. Fun up their bar ware with this fun mustache wine opener by Jonathan Adler.
3. The Techie–my husband definitely falls into this category. But, sometimes techie things can be well, too techie looking. This live edge iPad stand is beautiful. Would look perfect sitting on a desk or even a bedside table for movie watching. Speaking of iPad watching, the volume is rarely enough for my hard-of-hearing (yes, selective, but also for real…) husband so he normally  just cups his hand behind the speaker so it pushes the noise toward him, but this little accessory called the Amplifiear does it for you–genius! The last one is kind of cheating because we already have it–it's the Nest home thermostat…AMAZING piece of technology. Yes, it's a little like the dad equivalent of getting a vacuum on mother's day, but believe me, he'll love it and so will you. I've been meaning to get my husband to write a guest post on the Nest for a while…so maybe I can convince him before father's day!
4. The Proud Dad–Etsy is a great resource for pieces of art for the dad who wants to show off what he's all about. Whether it's showing the pride of being a great dad like this print, or cheering on his alma mater (or in this case mine!) like these great prints that spell out universities with pictures of well-known monuments and locations at that school. These would be good picks for his private area like an office.
I'm also giving my husband a day of not complaining–free, but sometimes the more difficult gift to find and give, but makes everyone so happy!