We were away in Iowa this past weekend watching my nephew make his first communion.  It was a great weekend and one of my favorite photos is this one:
An awesome pantry!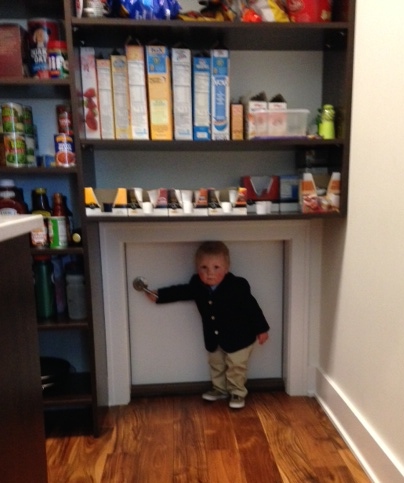 oh, and let's not forget to mention Mr. William all dressed up for the big event.  He was happy to have found a door that was just his size.  This mini door leads out to the garage so that they  (my brother and sister in law's house) can pull up and place grocery bags in the pantry without having to walk through the house lugging all of the grocery bags.  Brilliant!!
Speaking of kitchens…I like using things in unexpected places and the trend of persian (style) rugs in the kitchen is one that I'm loving.
There's something so unexpected about using a rather traditional rug in more modern kitchens. This rugs brightens up this kitchen and really softens the other elements in the room.  And of course, I love the David Hicks pendants.
 Not only do I love the rug, but I LOVE, LOVE the windows and no upper cabinets.  Kitchens are really becoming a central zone in your house and this one looks like it could blend right in with the adjacent living room.
 The lime green and blue in this rug are perfect for a kitchen.
My only advice to anyone thinking about doing this is to not invest a lot because these rugs tend to be very delicate and it's best to look at places such as esalerugs.  I recently came across this rug that I want for my kitchen AFTER I paint the cupboards and replace the countertop.