A reader contacted us last week asking about an alternative to the Restoration Hardware rug that I included in the last post about entry way design. Surprisingly, she didn't want to have to sell a kidney to get a new look for her foyer. Come on!
Here's the original from my design: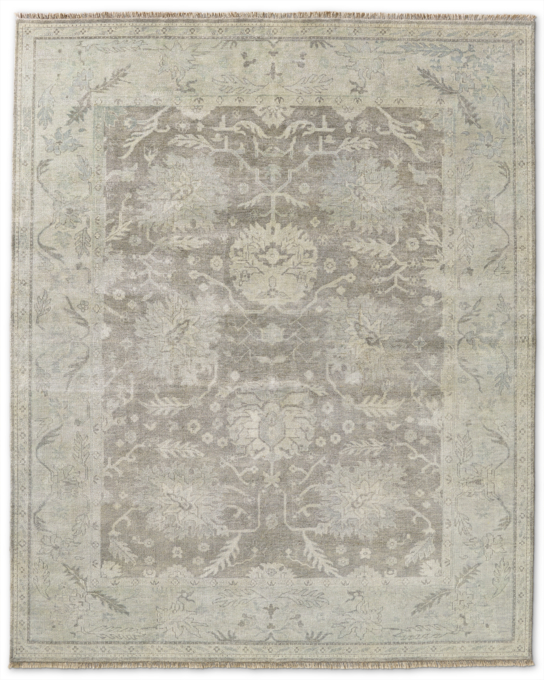 Perfectly antiqued look with shades of taupe, gray and blue that will look classic yet still contemporary in any home (no I didn't just take that directly from the RH catalog copy–it's true!) But at $4000 for a 8×10 ok it's not the most practical choice I'll admit that. So, how do you get a similar look for a much lower price? Here are four good options we found…
This Vintage looking light blue rug (5'3 x 7'6)
is darker (could be good thing with muddy boots!) but at under $200 for a 5×7 you might be willing to compromise slightly on the color. It's also available in other sizes.
Also in the blue family is this Safavieh Vintage Grey Rug
is under $500 for a 9 x 12. The viscose in it will give it a nice shine almost like a patina.
Or, if you want to go with warmer tones, this Vintage Warm Beige Rug
is a great option. For under $400 for a (almost) 8 x 10 it's a great price point for an entry so you get a high-end look, but still allow people to walk into your entry!
Or, this one in stone
also available in multiple sizes at super affordable.
Remember when buying off of sites like Overstock to look at the reviews/comments for additional information on feel, comfort, color, etc. We all know the color of something on your computer screen isn't necessarily what you're going to see in person and often in the reviews section people will make note of specific color information.
Like in the design board, we suggest pairing rugs like this with more contemporary pieces–clean lines, a little acrylic, you know the things that will keep these rugs from feeling too stuffy.