Tessa and I are headed out to IKEA Schaumburg tomorrow morning for this special event. If you're local to the Chicago area, you might want to check it out (and it's going on in other markets so check with your local store.)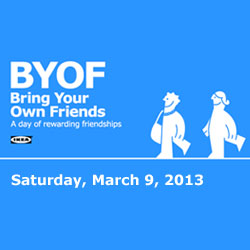 Not only are they offering free breakfast (who doesn't love those outrageous cinnamon buns?!) but we're also excited to meet two featured speakers: Erin Gates of Elements of Style Blog and organization guru Peter Walsh (if he's good enough for Oprah and Nate, he's definitely good enough for us!) We've been following Erin's blog for a few years and are both so excited to meet her in person!
Erin will be speaking about designing on a budget and Peter will be discussing how you can improve your life and home by decluttering and organizing your home.
Here's a couple of pics of Erin's South End Boston home when it was featured on The Everygirl (she has since moved and is working on renovating her new home):
Tessa and I (with babies in tow) are headed to Schaumburg to tackle IKEA and meet Erin and Peter–hope to see you there!