Hi everyone. Hope you all had a good weekend. Not sure what happened to summer, but a chillier weekend meant more things got done around the house. Amy and I even had a chance to head down to the city to check out Jayson Home, FLOR and West Elm plus grab a little breakfast at one of my favorite places from my Wicker Park living days–Milk & Honey.
When I posted this picture of Madeleine's little Lack (hack!) table and chairs a few weeks ago, I got a lot of questions about her little side chairs.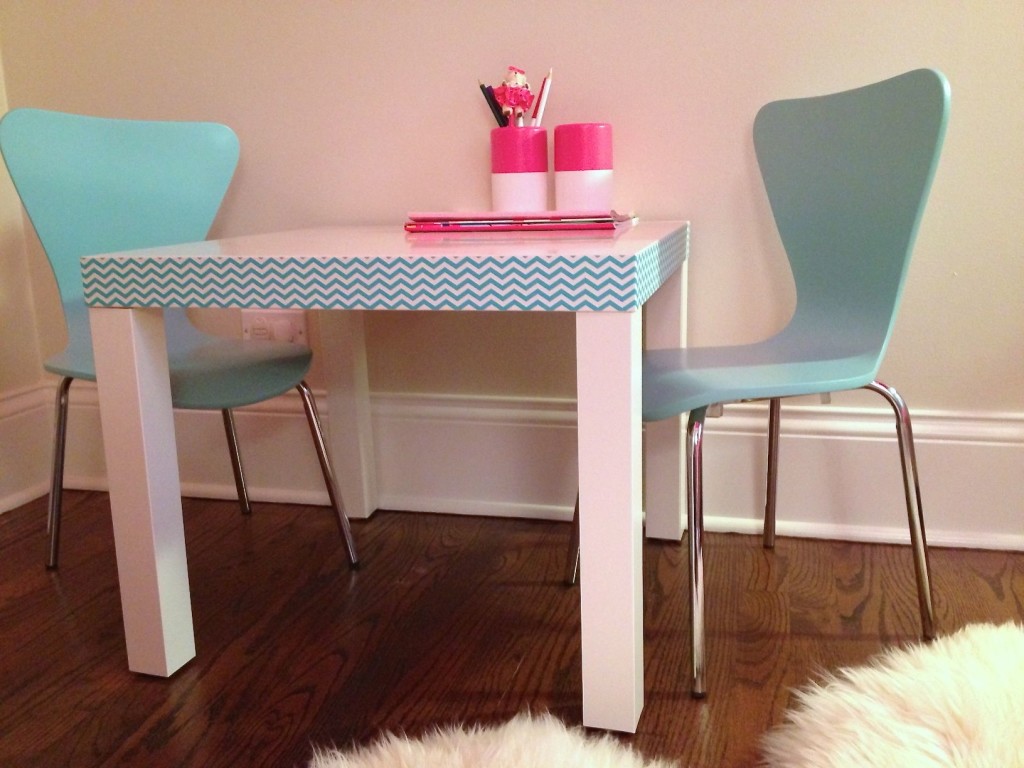 The scale of these chairs–called the Little Jake from Room and Board–is perfect for a 2-5 year old. Madeleine can sit and draw, have tea parties, chat with another little person…you know, all the fun things a three-year old likes to do. The great thing about this lack table from IKEA is that its simple parsons style really goes with any kind of chair.
Here are some other suggestions for chairs perfectly sized for the little kids in your life…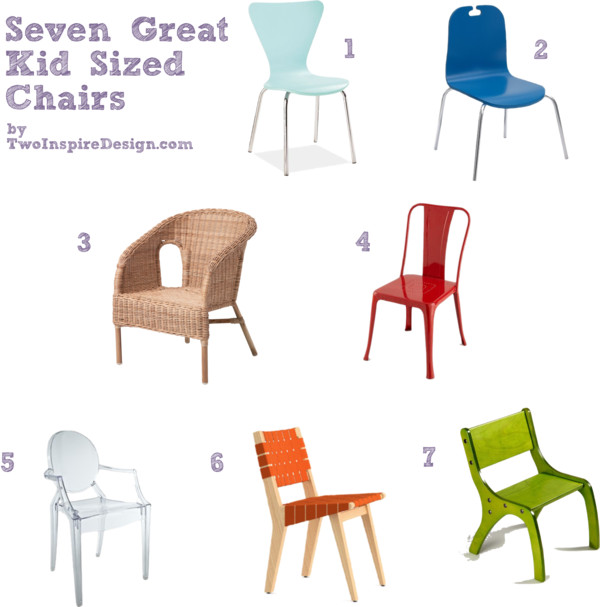 Madeleine's (#1) Little Jake comes in four fun colors–at $49 it's middle of the road coast and is American made so I don't mind spending a little more! Pottery Barn Kids (#2) has something similar for $39. Also discovered on a recent trip to Land of Nod that they offer a version called the Felix Chair
 that comes in a bunch of great colors and is priced at $69. Here's a pic (albeit small!):
IKEA is a always a good source for kid-sized furniture. Chair #3 is a great little shape and because its kind of plain would look so cute with a graphic print cushion on it; super steal at under $20. These iron chairs are currently being seen everywhere for the big peeps so why not incorporate them into your little guy's life with the Iron Rich Play chairs (#4) from Land of Nod.
I'm kind of obsessed with this mini knock off ghost chair (#5) and at under $70 you could afford to pull a couple of around a cute round play table. This
knoll kids Risom Side Chair
 (#6) is pricey at about $200, but seriously gorgeous and great quality. And, this little green chair (#7) which has a table it comes with (Knifty Kids Table & 2 Chairs Set
) is like a modern take on a schoolhouse chair.