Maybe your kitchen isn't all that bad–say, the solid cabinets, or maybe it's the decent countertops you like and hey, those appliances are actually in pretty good shape…but, it could certainly do with a mini makeover…a little filler to give it a fresher look.  That's how I was feeling about our kitchen.  We didn't want to spend a lot of money doing a complete overhaul, but did want to give it a "younger" look.
Here's what the kitchen looked like when we bought our house.  Contemporary brushed nickel finishes didn't feel quite right for the overall style of the house and the wood cabinets just blended right in with the floor and felt overwhelming in a less than large space.
These were a couple of inspiration photos I held on to and kept coming back to as I made changes.  First, a kitchen I saw in California Home + Design in 2008 and then another one from the July 2006 issue of Canadian House & Home.  Oldies, but goodies in how classic they are.  I also wanted to make sure my inspiration photos were somewhat attainable.
To create more contrast with the black honed granite counters we were keeping, step one was finding a guy on Angie's List to spray the cabinets–I could have painted them myself, but felt like this makeover is going to have to tide us over for a few years so I would at least get it done properly.  Then, I added a little bling in the form of new bigger, brighter hardware, lights, and a faucet.  Amazing how simple changes can make a huge difference.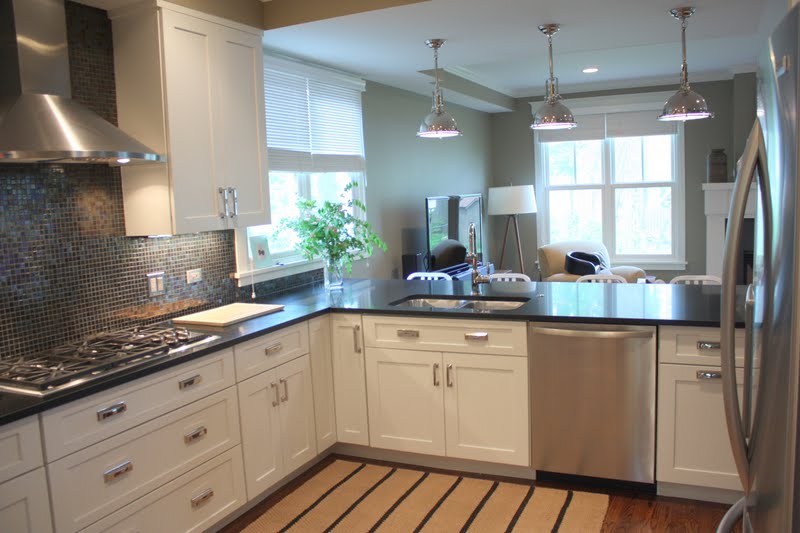 The lights are the Harmon pendant from Restoration Hardware.  I did a LOT of research on similar pendants but found RH was my best bet because they don't have a restocking fee just in case the lights didn't work and I'm notorious for second guessing!
The euro hardware was replaced with Hickory Hardware Studio line in bright nickel; a combo of standard pulls and bin pulls adds visual interest.  I found the hardware online and then had a local retailer match the price.
For the faucet, I wanted a gooseneck that would balance out the large pendants above it, but also wanted to make sure I had the functionality of a pull-down spray faucet.  We landed on this one from Hansgrohe and took a leap of faith by ordering it from a random site that offered the best price.  Super easy to install and I love the way it turned out–big and beautiful!
Marble countertops like those in the first inspiration photo are dreamy, but neither in the budget, nor particularly practical in a house with two little kids.  Instead, the next little update will be replacing the dark glass tile backsplash with herringbone carrara marble so I achieve a similar look, but at a fraction of the cost.  The backsplash is begging for a change, so stay tuned!  
So, don't be disgruntled if you're not able to gut your kitchen, instead  look for the little ways like hardware and lighting that make an impact and will help you create a space you'll love.
And, finally for you locals, if you're looking to make a change to your kitchen and need some inspiration, make your way to Winnetka tomorrow for Designer Kitchens of the North Shore.   Amy and I are going and will do a recap next week!