So baby Will is 3 months old and I'm finally getting around to pulling his nursery together. I was hoping by this point I'd be doing a nursery reveal, but no such luck! I'm all about repurposing items so I have a few things that I'm using that were in Conor and Madeleine's nurseries.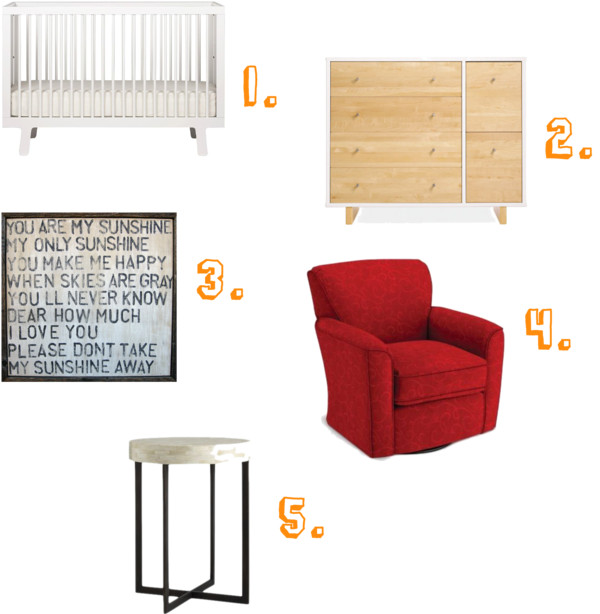 1. An Oeuf Sparrow crib–luckily I didn't have biters so it's still in perfect shape after six years and two kids! Goes with any decor. If you're having your first baby, I definitely recommend picking a gender neutral, style neutral crib and changing table so that you can use it in any room moving forward.
2. A dresser with changing tray from Room and Board–a bit of a splurge, but it's been used every day so I can justify it! Oh, and you can now customize it in more than ten drawer front colors!
3. A print of "You Are My Sunshine"–a song I sing each night to my kids. That will go over the crib.
4. A red glider and ottoman similar to this one–not a choice that I would make today, but I picked up for a steal when Bombay Kids went out of business six years ago and have managed to decorate nurseries for two boys and one girl around it! A comfy chair is a MUST in any nursery…I can't tell you how many nights I've slept in this chair!
5. A little bone side table from West Elm–a little table where you can rest a bottle, a little clock for timing nursing sessions, etc. is also a nursery must.
Here's a pic of the crib and chair in Conor's nursery five years ago. (Can't believe it's been that long!)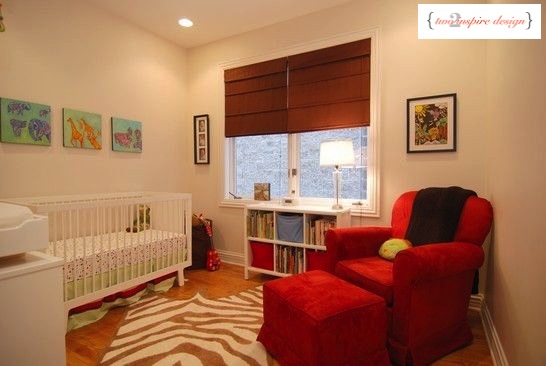 Now on to what I'm going to add! I wanted to add some texture to the room with a cozy rug so picked up the Urban Loft Shag Area Rug in antique solid
 from Home Decorator's Collection. It's hard to find rugs affordably outside the standard sizes, but with the coupon codes available, this one was under $300 for an 8×8. It  ended up being more taupe than cream, but I still really like it…and so does someone else–and how cute is this onesie my brother sent little Will?! He's another little pop of red in the room…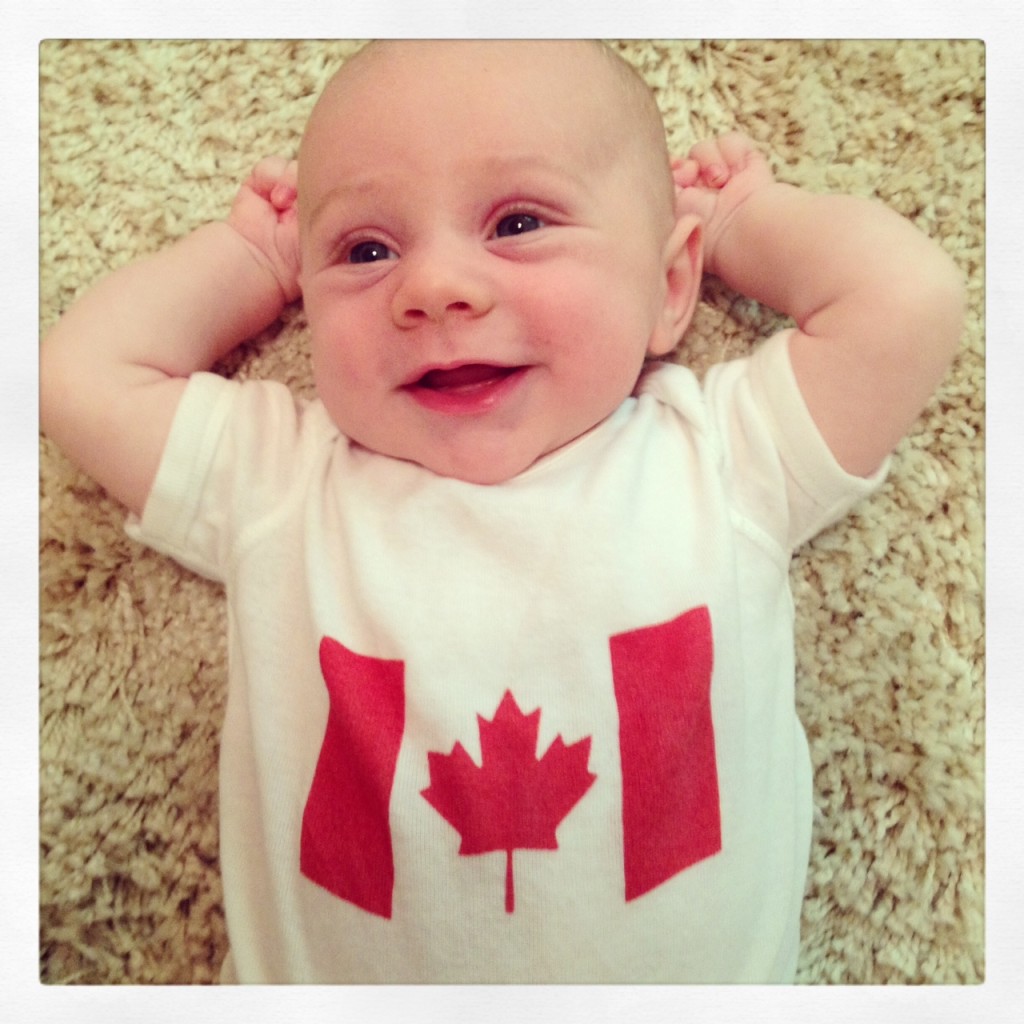 I wanted to bring the red into the room a little more, but not too much. I love the Aden & Anais line of swaddle blankets, bibs, etc. so was thrilled when I found out they now do muslin sheets! 
And even more thrilled when I found this "Liam the Brave Medallion" sheet with a mix of red, taupe and aqua blue.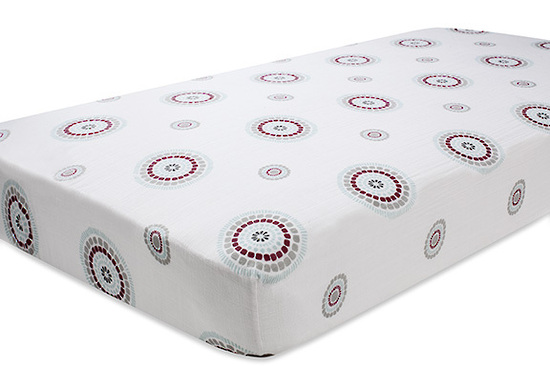 I have simple cream drapes in the room, but want to bring in some additional pattern and color. I want something a little fun and definitely don't want to spend a lot of money (actually, I don't want to spend any!) so I'm going to add a trim to the existing drapes like this:
I pulled the taupy grey and the blue out of the sheet and am deciding between these two fabrics: P/K Lifestyles Cross Section Charcoal

and Premier Prints Zig Zag Village Blue/Natural
Yes, it's super trendy chevron, but at under $8 a yard, I don't have to love it forever!
And a few others things I have lined up…you may remember the acrylic shelves that Amy used in her William's nursery. These are an amazing solution for storing books in small rooms so I'm going to be doing three of those as well! I'm gathering little pieces of art for a gallery wall behind the changing table and working on creating a mobile…stay tuned!
So, that's what I have so far. Can hopefully get the rest of the room pulled together in the next few weeks and will share pictures!