A couple of months ago, Kerri and Matt asked us for some help with their living room. They love their house and the general space of the living area, but felt it no longer reflected their aesthetic.
Here's a glimpse of what the room looked like when we started the project…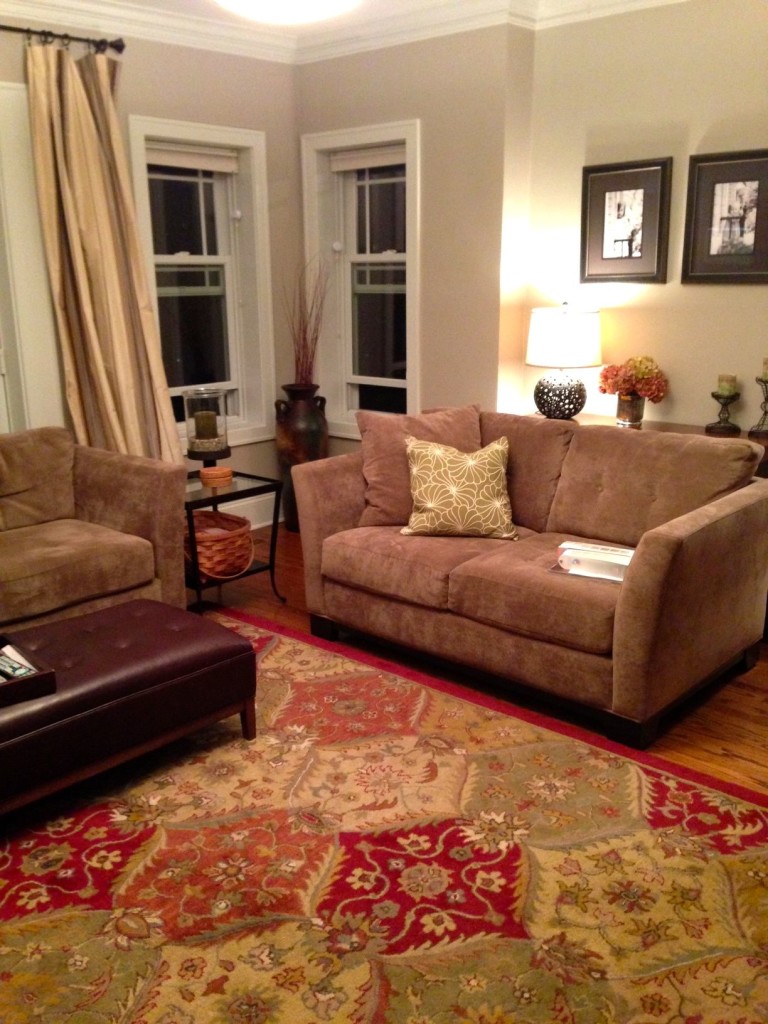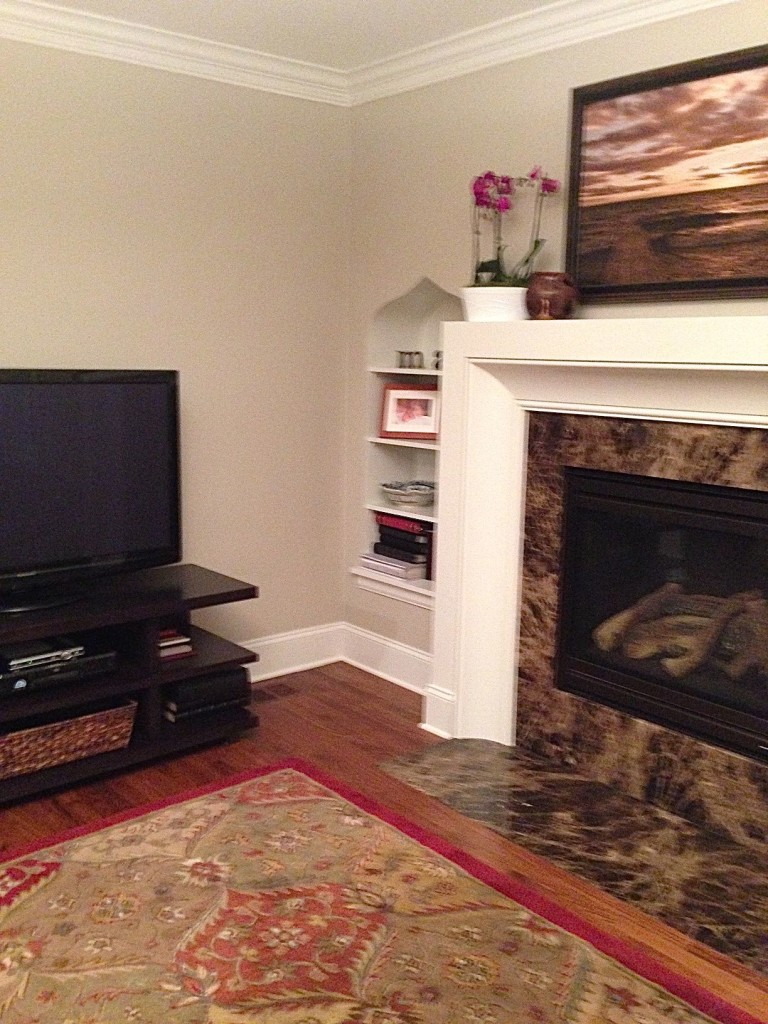 Kerri and Matt have three little girls and wanted a room that would reflect the fun, casual family lifestyle they have. One of their biggest goals was to lighten up the room and make it feel more contemporary. They liked the general layout so asked that we work within it as well as keep the TV console, the leather ottoman, the paint color and the drapery. They had also just added the new gas fireplace with mantel and granite surround themselves so wanted to make sure we took that into consideration.
We got to work helping them create a serene, comfortable living room great for entertaining guests as well as a lazy Sunday morning as a family. Here's where we landed…
A large sectional offers plenty of seating, is large enough to balance the oversized mantel and provides a relaxed feel; a light grey finish is kid-friendly, but doesn't feel heavy…
An ivory rug with a large graphic pattern is neutral, but interesting and a little round wood table provides texture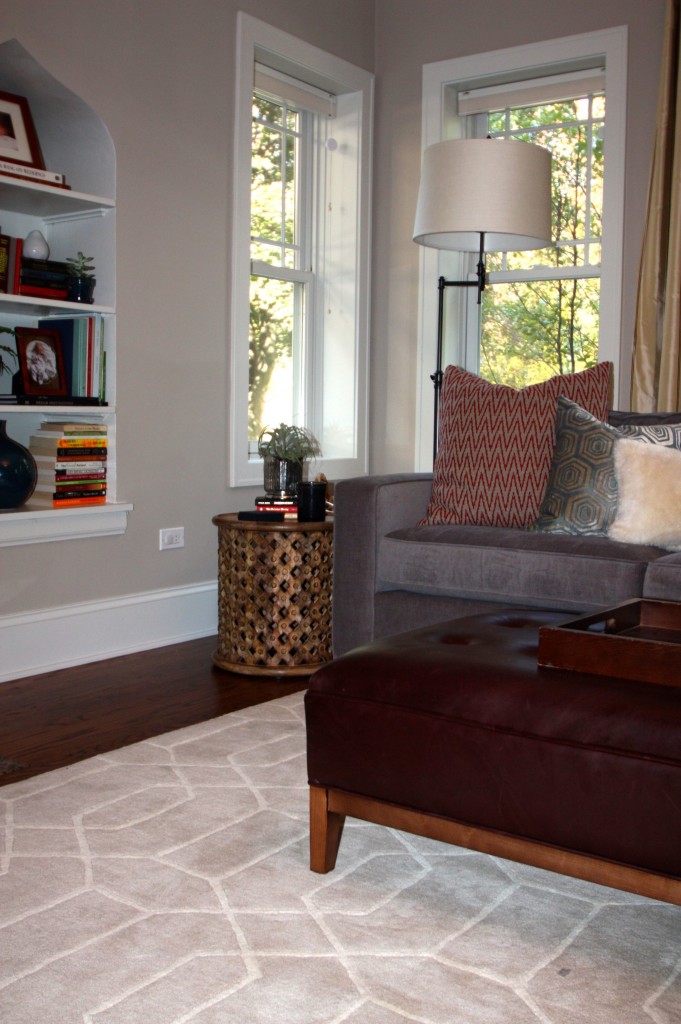 A narrow console (with equally narrow lamp!) was found to fit perfectly in the space behind the couch–this is right next to the entry so a perfect place to drop keys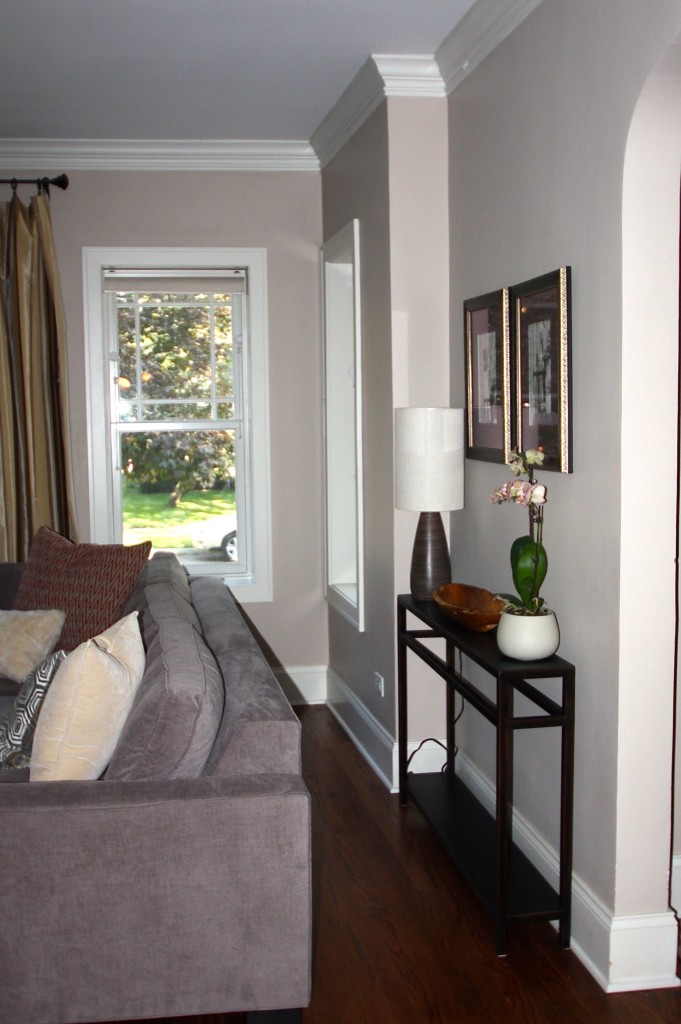 On the other side of the room, the television was mounted above the existing media console. A previously empty corner becomes the perfect place for a reading nook and two frames de-emphasize the TV.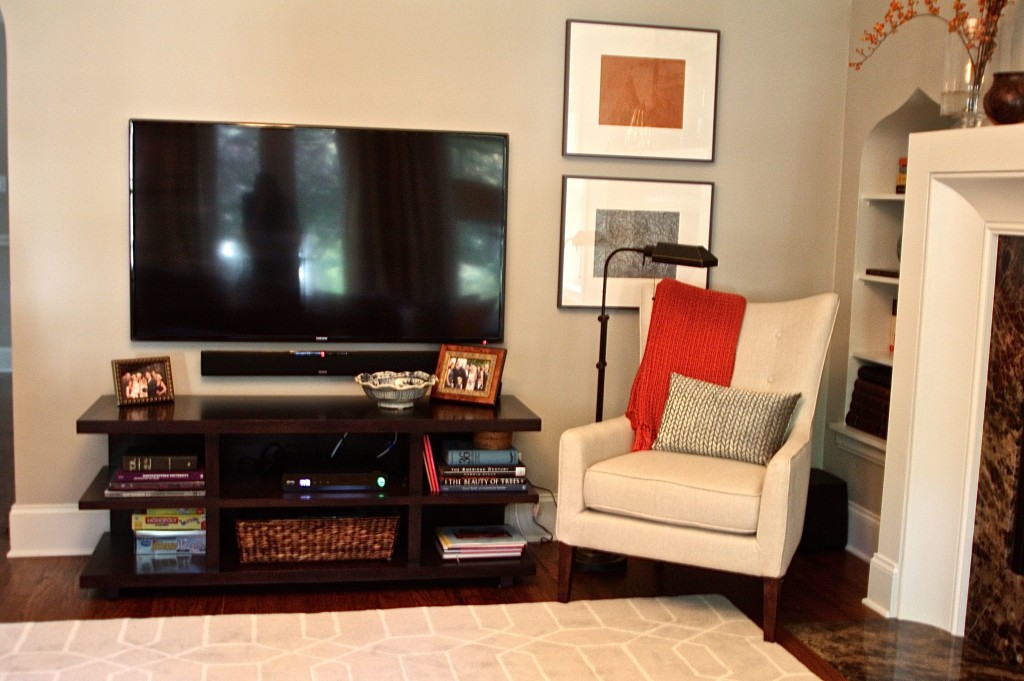 How great is this chair?! We provided Kerri with specific measurements and notes on shape for what should go here and she found this perfect piece at HomeGoods!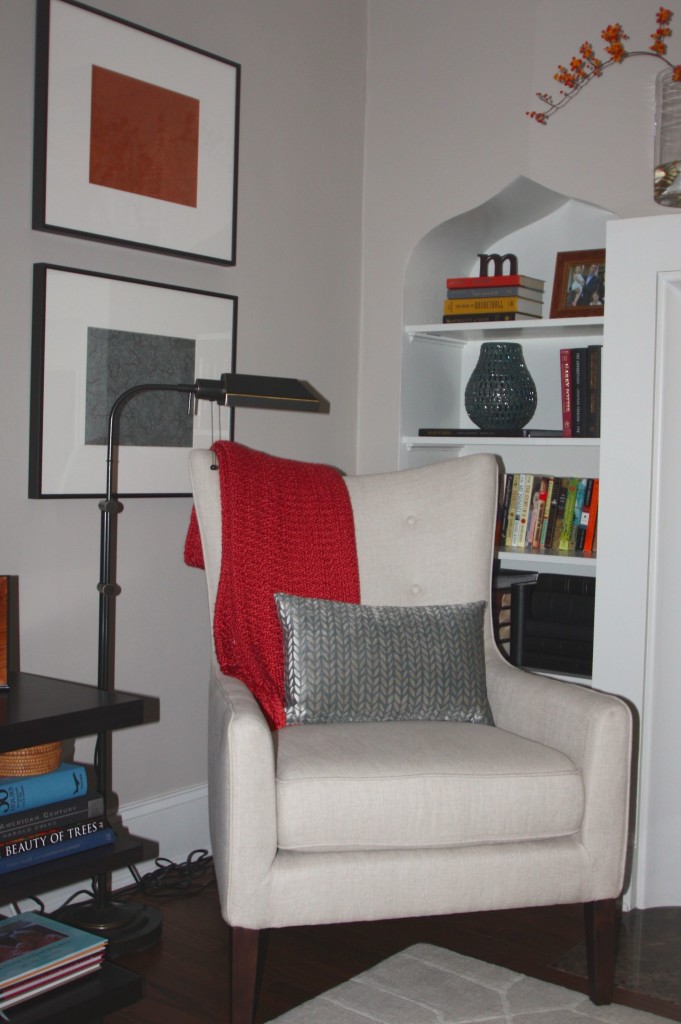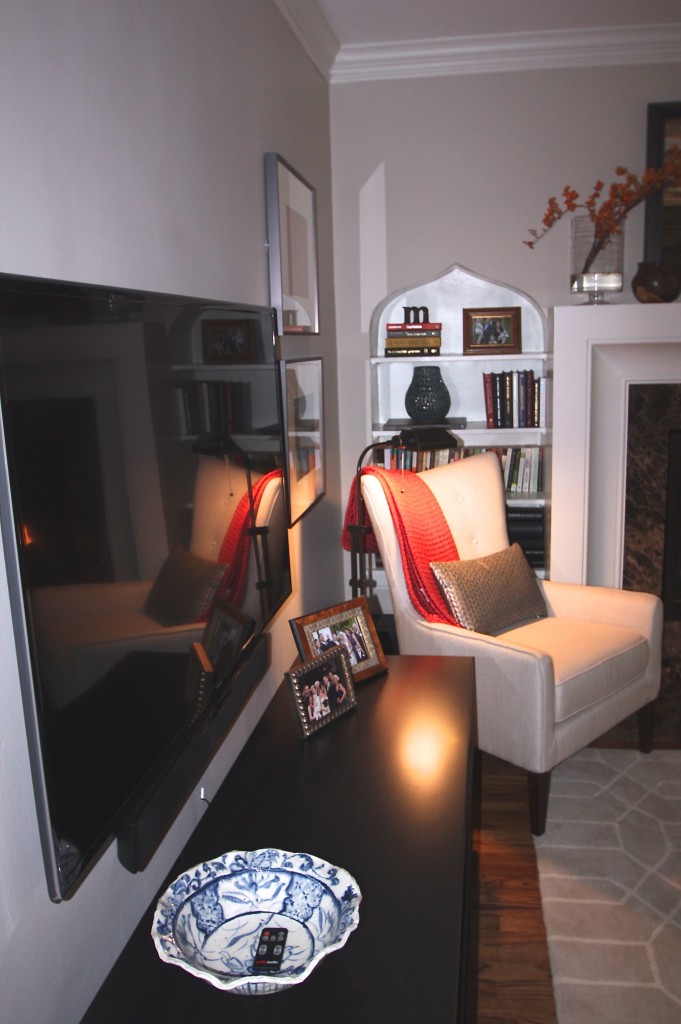 Finally, styling the bookshelves put the final touches on the new room.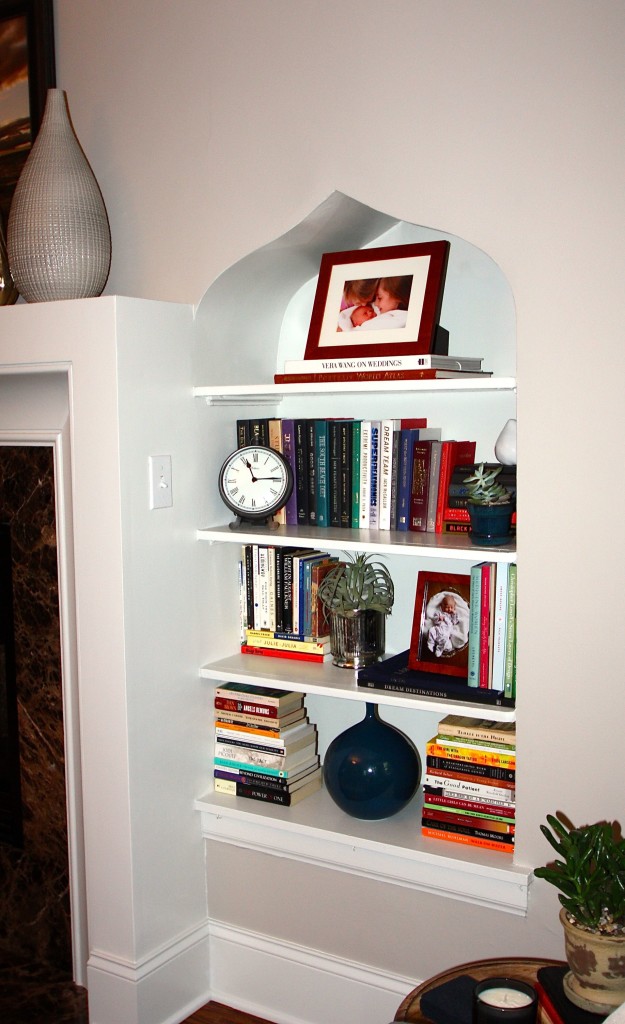 Thanks Kerri and Matt for sharing your new living room!
Like what you see and need some help in your own home? In just a few hours we can help you pull together your vision–guiding you through the process to make the best choices of furniture, finishes, fabric, accessories, etc. Contact us here for more information!