Back from a week's vacation…so so good to get away and feel some sun on the skin! We went to Orlando for a couple of nights and a day at Magic Kingdom and then headed out on a four day Disney cruise. Tell ya what…Disney knows how to do it right. Overall, I thought the experience was great–the boat was spacious, the kids club was amazing, the food better than decent, the service was impeccable and everything was very clean. The kids loved it. We loved seeing our kids love it. If you're sensitive to crowds and loathe schedules, I'd definitely look at other options though–this was our first time doing a cruise at all and there are definitely people everywhere and having to follow their schedule for things like dinner might not be for everyone. The idea of a big floating city can be a little freaky (especially given all the stories lately about cruises!) but I tried not to think too much about it. From a design perspective, the rooms are really well planned. We were on the Disney Dream and here's what our room looked like–we went with my MIL and had an adjoining room that was a mirror image of this one.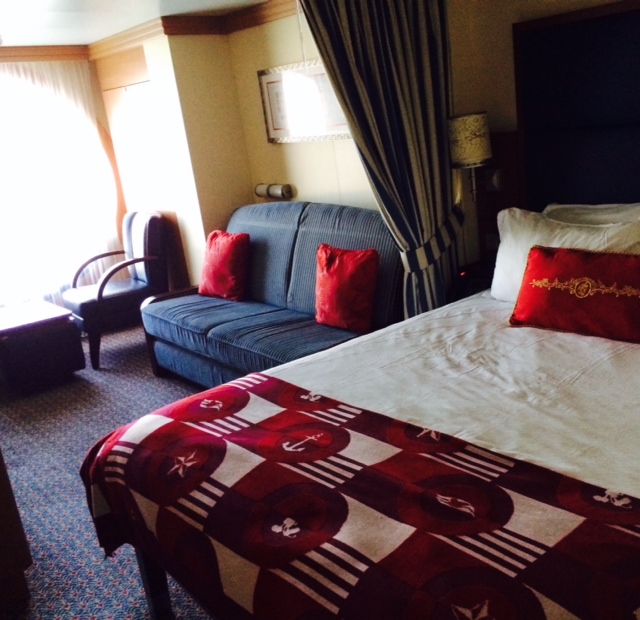 We decided not to get a room with a balcony because of the kids, but there was a huge porthole window that was just as good. There was a queen bed and then the couch is turned down into a single bed and behind the chair there is a murphy bed that housekeeping also turns down every night if it's needed. The curtain pulls across to separate the two areas. We had them put a pack and play in our room and the baby slept great with the curtain pulled. So, in the end, would definitely recommend the cruise just go into it knowing that it won't necessarily be a totally relaxing vaca if you're going with kids.
Ok on to the update on a client project! We've been working with a family to update their kitchen/family room area which included a corner they'd designated for a breakfast nook. We'd previously presented options for chairs to go with the Aria table from Room & Board we recommended and they ended up going with the molded Eames chairs. Here's what we've done so far–LOVE how it's turning out and they're super happy with the choices made so far.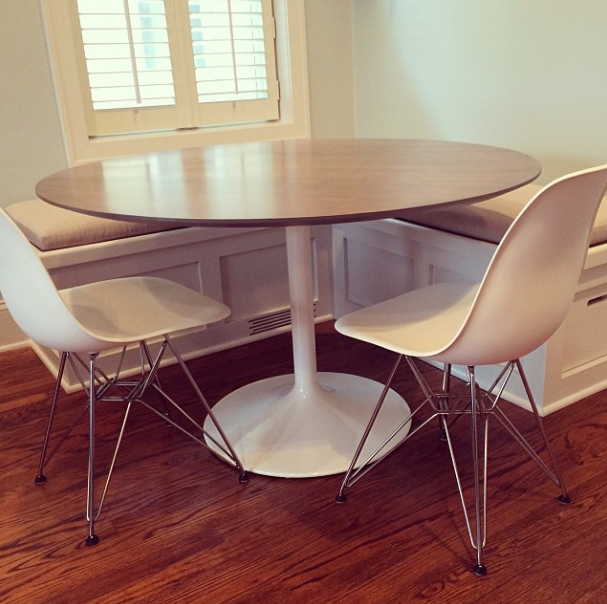 After finalizing the table and chairs, we did custom cushions for the banquette in a neutral Sunbrella fabric (they have three kids!) and now we're moving on to the next part which is adding some color, interest and softness to the corner with pillows.
Our clients like greens, blues/greys and reds/oranges. We could do something super eclectic and mix all the colors, but  they want to keep things simple and relatively monochromatic, with just a little color added in. Here are three options we've put together for them…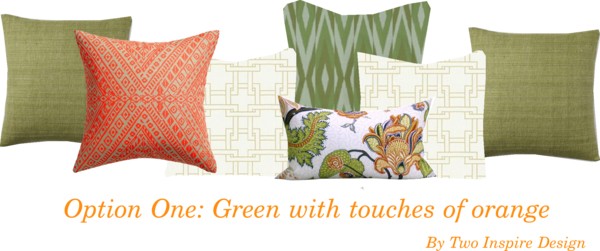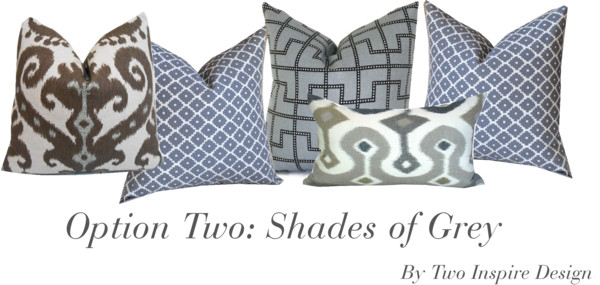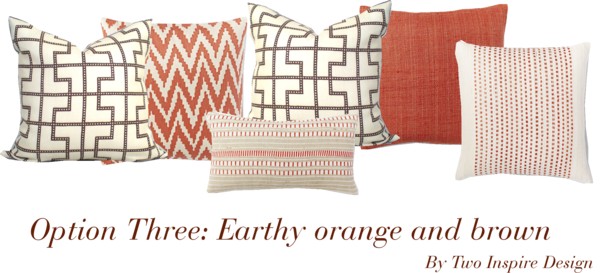 Which would you choose??