As moms of three, Amy and I are big fans of decorating and organizing playrooms…they're an essential part of our lives and our basement playrooms are the key to our sanity! And of course IKEA is one of our favorite sources for a playroom. Contemporary, colorful and affordable. AND, yes, surprisingly durable.
So drilling down into IKEA a little more, you have the PS Collection. As a former PR girl, I kind of laugh at the description of the collection on their website: This time we've taken inspiration from the way people live today, often in unconventional spaces and never in one place for long. Created by 20 designers, the IKEA PS 2014 products offer flexible solutions for young-in-mind urban people living "in the moment".
Reading through the lines I see a brief that asked the designers and marketers to appeal to the post-college renter. As a mom and decorator, I think perfect, decently priced furniture that will fit into smaller spaces and will be cool enough to my kids as they get older.
Here are five pieces I'm loving from IKEA PS right now…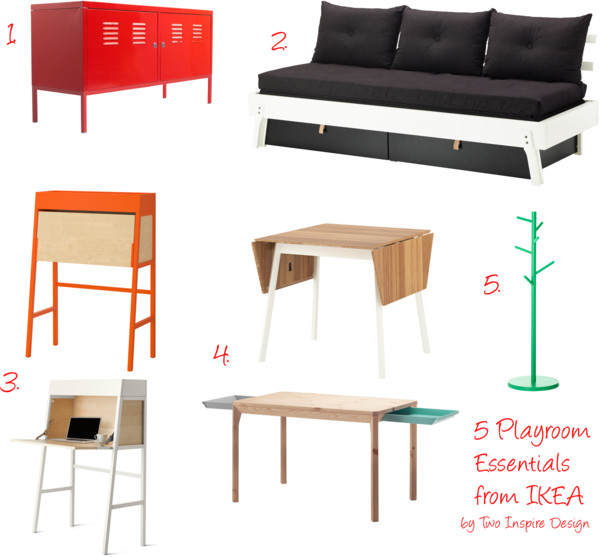 1. Storage is a must in a playroom and this locker is great looking in white or red. Large enough for a decent sized TV as well so you could use it as a media console.
2. Perfect for sleepovers, this daybed from their 2012 collection offers under-bed storage as an added bonus. I'd recover the mattress and back cushions in something a little more fun…maybe a combo of sunbrella fabrics solid on the mattress and graphic pattern on the back cushions.
3. For a little homework area, this secretary desk is super cool looking.
4. A good table is obviously a must and these are two great options. A drop-leaf table can accommodate a couple of kids folded down, or a few more over for a playdate when folded up. Or, this narrow table has two drawers built in underneath perfect for paper and pencils. You could even cut this down to accommodate younger kids.
5. Finally, a place to hang all those dress up clothes! This hat and coat stand reminds me of expensive designer versions priced at four or five times this $30 version. The green is super fun and the design is practical.