So, most of you know that my husband and I just got back from a 10-year anniversary trip to Greece. We're lucky enough to have amazing parents who stepped up to help watch the three kids and our furry child. We cashed in all of our miles, packed our bags and lived in a dreamland for eight day…and I'm serious it was a dreamland. Thought I'd share some pics today.
We decided to forego Athens (sorry historians!) and head straight to the islands. Amy had been there before and suggested we spend most of our time in Santorini and stay in Oia. If you've been to Oia, you know that the moment you walk over and look over the edge of the cliff across the Caldera, it's just breathtaking.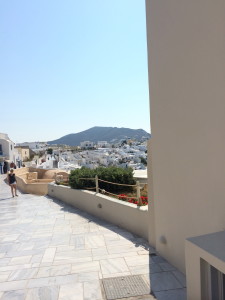 We arrived around 9pm to this view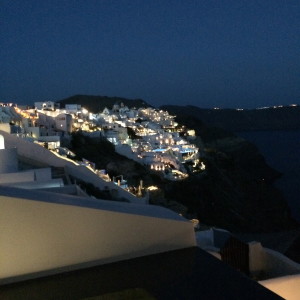 We chose to stay at an amazing place right on the cliffs in Oia called Andronis recommended by my friend who had honeymooned there a few years ago.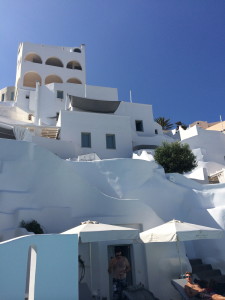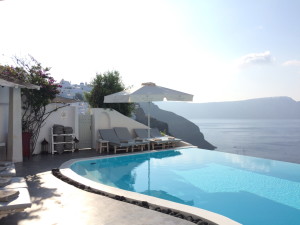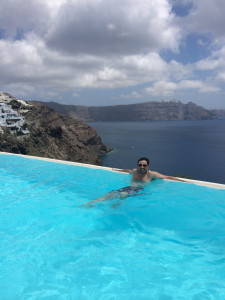 The rooms are the traditional cave-style that were previously lived in by fishermen. The rooms wouldn't necessarily be described as luxurious if you're used to staying at nice places (we did have the most basic room though so I'm sure there were others much nicer), but the surroundings were amazing and the view couldn't have been better.
Each room had a little gate as you entered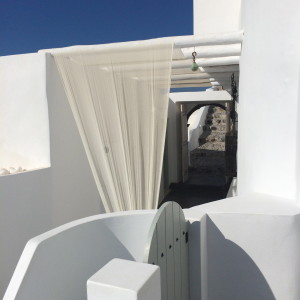 Given the rooms are built into the cliffs, it makes for some interesting angles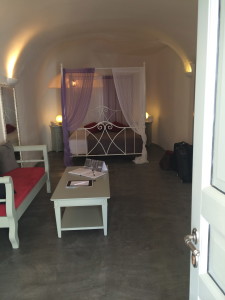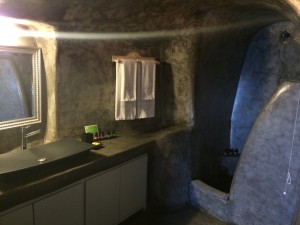 All the walls throughout the hotel were whitewashed and the only real decor was wrought iron lanterns and the occasional breezy white curtain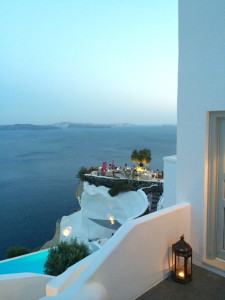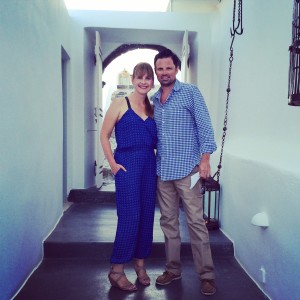 The service was excellent and the food delicious. My normal day at home starts at 5:30, prying my eyes open and downing coffee while trying to feed three kids. In Santorini, my day started like this…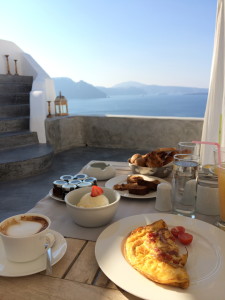 (best greek yogurt ever and I've never tasted feta so good!)
…and ended like this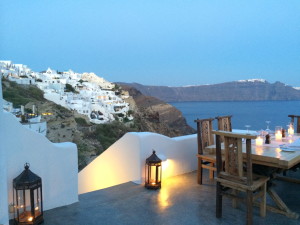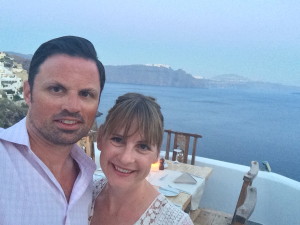 Not a bad view for dinner!
One day we went sailing and another day we rented an ATV and spent hours just exploring the island. We ended the day by getting some chicken gyros and pulling over to watch the most amazing sunset.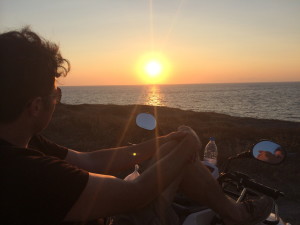 If you haven't been to Santorini, definitely add it to your bucket list. Today, as I screamed "Clean up!" for the 100th time, I just took out my phone and looked at a pic of the view from the pool and disappeared for about five seconds. Tomorrow, I'll post some pics from the place we stayed in Mykonos.