So, in honor of the disaster that is the live version of the Sound of Music that's on while I write this…Carrie Underwood really?…in lieu of a regular gift guide, I thought I'd share 10 of my favorite things in case you're looking to give a little gift, or looking for things to add to your own list for Santa!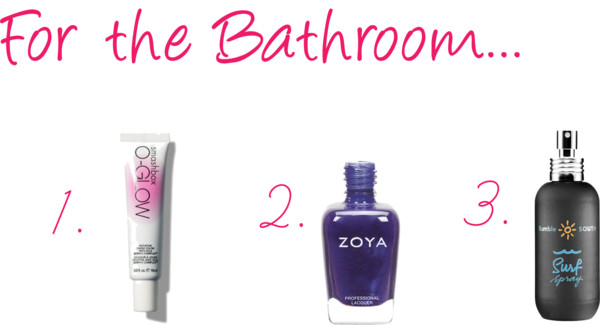 1. I'm obsessed with this liquid blush called O-Glow by Smashbox–so soft and the perfect pretty hue of pink.
2. Zoya is my favorite nail polish. I put on this fun blue/purple hue called Neve  last time I got a manicure and it was the perfect winter color…plus it lasted for two weeks! The perfect stocking stuffer.
3. Ok, so it's freezing out, but that's no reason why you can't have beachy waves! I love this Bumble and Bumble Surf Spray.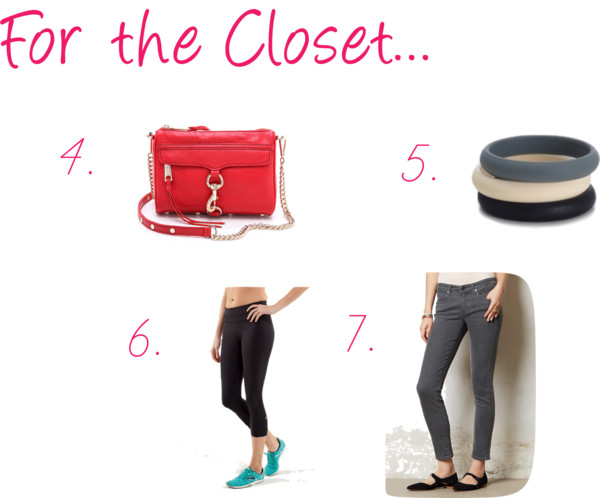 4. This is my favorite purse right now–the Rebecca Minkoff Mac
. It's the perfect size for just enough crap during the day and looks just dressy enough to transition to night (at least my nights!)
5. As the mother of a baby, these chewbeads are the perfect blend of looking decent, showing a little accessorizing effort and being totally practical because I can just hand over a bracelet for Will to chew on when we're out!
6. We all love our yoga pants and i LOVE these ones. Yeah, they're a splurge since they're Lululemon, but I promise you'll feel good and they just kind of pull it all in so you feel tighter.
7. These AG Stevie Jeans
 might be the only jean I buy moving forward. I've searched high and low for a jean that's comfortable, but looks great–they look great on everyone, come in ankle and full length, petite, cords, lots of colors–so many great choices!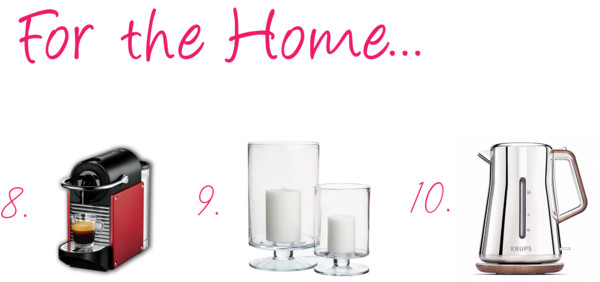 8. This Nespresso Espresso Maker
might be the most-used appliance in our house. Amy has one too and loves it. Makes great coffee and the with a separate milk frother, you have less parts to worry about breaking.
9. These glass hurricanes are perfect for all-year use. I sit them on the dining room table with a white candle as shown, use them as vases for flowers (gladiolas are great in the larger one) and fill them up with things like pinecones at Christmas.
10. Finally, my mother-in-law got me this Krups Silver Art Electric Kettle
for my birthday this year, and I don't know what I did before I had an electric kettle in my life (well, actually I do, I went upstairs and forgot about the kettle on the stove and they came running downstairs 30 minutes later hoping my kitchen still existed!) This one is so pretty too with a gorgeous walnut trim.
Any of your favorite things to share?