It's yet to feel like Spring is here, but we had a little taste of it this weekend and I want more. One of my favorite things to do in the summer, is hand my kids a bunch of sidewalk chalk and hang out on my front porch. So what makes a good front porch?
For me, it starts with the basics: a good front door (I tend to go classic colors on mine like this rich BM Hale Navy), a great light with clear glass shade, simple accessories in contemporary numbers, doorbell and a no-frills mailbox. The next thing to bring in that is invaluable is two comfortable chairs and a combo of affordable pillows. I love these ones from IKEA for a covered porch. Then bring in a ceramic stool in a contrasting color so you have somewhere to set down that evening cocktail you'll be enjoying while your kids ride bikes in front of your house (sound Americana enough??) I like to use boxwoods in varying sizes of the same pot; at the end up the summer you can plant the boxwoods and enjoy them all year.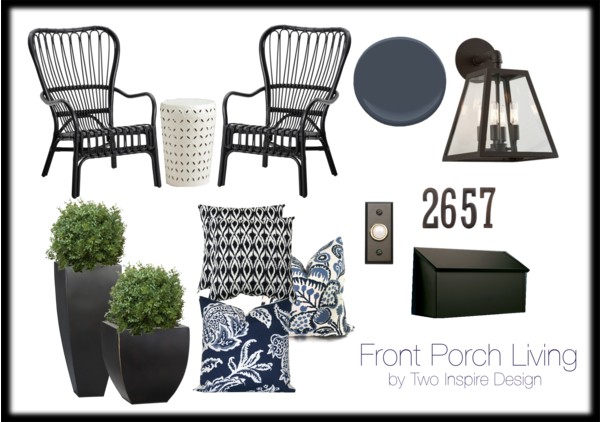 I like to keep my front porch design simple…nothing too showy from the road (maybe the modest Canadian part of me coming out!) Hopefully soon we'll all be able to actually hang out outside soon.