A great foyer is key in a well-decorated home because it sets the tone for what you're about to experience in the rest of the house. Here are three very different entries from which we can take inspiration.
Amazing wallpaper, check. Amazing pendant light, check. Bench, check. Mirror(s), check. Giant shell, check…ok, well that last week seems a little stagey, but whatever the rest is great!
The clean simplicity of this foyer is so inviting. Layered lighting, a wide console (in my world to gather lots of crap…not the case here), statement mirror and inviting rug.
This last one is obviously beautiful, but not Two Inspire Design-ish in its traditional formality, but the fab tufted bench and artwork saves it for me. I've spent a surprising amount of time in my entryway waiting for someone or something and I'd love to have done it sitting on this lovely.
So, how do you get a great entryway? Start with the basics. Here are five pieces that set the foundation for any gorgeous, functional foyer.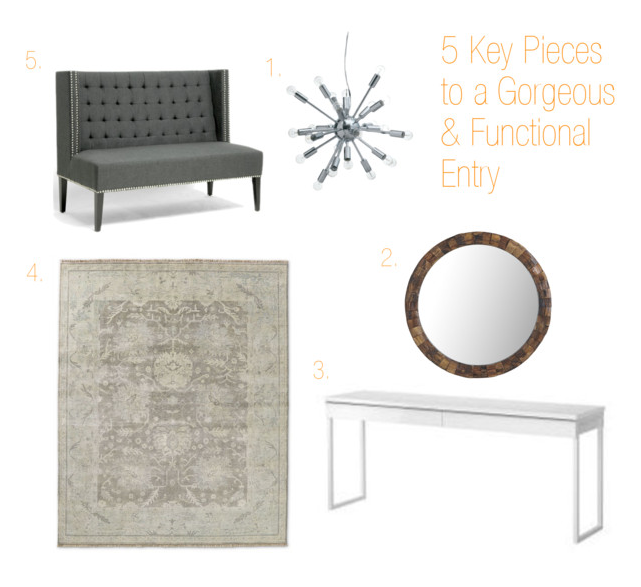 1. A great light like this Sputnik Pendant
 will get people excited about the rest your home has to offer.
2. A mirror might feel cliche, but it just makes sense in an entryway! Who doesn't like to quickly check their teeth before they head out the door! With lots of clean lines and muted colors, I like pulling in a little rustic wood like this Pearwood Ring Mirror
to add some warmth.
3. This Besta console from IKEA is one of our little secrets–clean lines, great size and totally affordable.
4. With the modern lines of the console, I would pick a more traditional rug like this one from Restoration Hardware to add just the right touch of sophistication. Plus the color will hide so much! But, if that scares you, a trusty indoor/outdoor rug like this one from Pottery Barn
would be safe and good looking.
5. A place for people to sit down and put shoes on is important in a foyer. This banquette bench
is a statement piece and the dark color just makes sense in a high-traffic area. If you don't have room for a bench, use an occasional chair that can do double duty in the dining room for extra dinner guests.
Welcome home.