For Christmas this year my six year old son has one request, a bedroom makeover.  At first, I said no way because I love his room, it's cute, neat and perfect in my opinion.  But then I realized that it is HIS room after all and he was becoming more like his father–he wanted a say in how his room was decorated.  So, after much hesitation I finally obliged until I asked him what he visioned for his room…..get ready (it won't be a surprise to some of you) a Blackhawks hockey room.  The only image that came to mind was something like this:
I'm not one to usually decorate a nursery or a kid's room based on a theme not to mention I don't typically go for the color red.  I needed to come up with a compromise that my son would still feel like the Blackhawks were represented but I wouldn't open his door with disappointment every morning when I saw hideous decor in his room.
So this is what I came up with….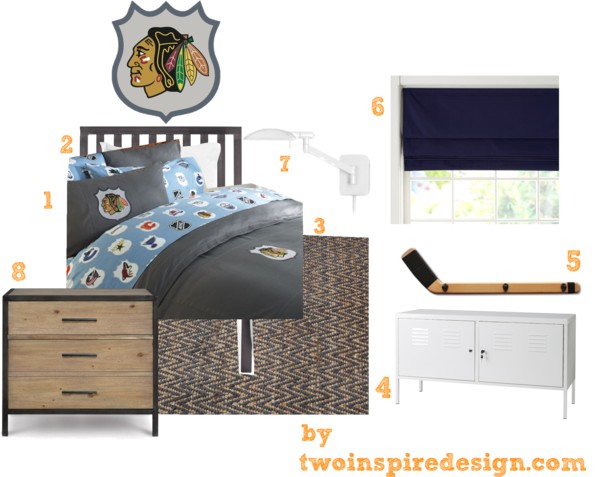 1.  I adore this NHL bedding set from Pottery Barn Teen.  It comes in beige, navy and gray.  However, I didn't think the Chicago Blackhawks logo looked great on navy blue….gray was the only color that didn't steer too far away from the actual team colors. This bedding alone sets the tone for the room.  The sheets are currently sold out online but I'm going to call every Pottery Barn Teen store and see if I can locate some.
2.  This bed frame from Room and Board is the perfect piece in the room without adding bulkiness and still has a masculine feel.
3.  I have always loved this rug from West Elm.  I tried the natural color one in William's nursery but it didn't work.  So I was happy to see that it will work in one room of my house.
4.  This storage locker has been on my wish list for six years.  A friend in San Francisco had one in her living room behind her couch (hi, Libby!) to store kid's toys.  It looked great and I love the high gloss white finish.
5.  What hockey room would be complete without a hockey stick with hooks to hang all of those medals that one acquires.
6.  I shared my love for these roman shades here.
7.  A bedroom would not be complete without a sconce beside a bed.
8.  An industrial nightstand with rustic wood keeps the room from feeling too heavy on the metal side.
Do you think this is the right mix to make a six year old happy ?